Liberty Partnerships Program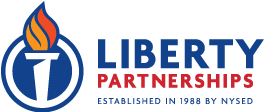 The New York State Education Department (NYSED) provides guidance regarding the Novel Coronavirus (COVID-19) for schools across the state to help us ensure the health and safety of students.
Memo From NYSED to Liberty Partnerships Program
The Liberty Partnerships Program (LPP) was established in 1988 under Section 612, Subdivision 6 of the Education Law to address the significant dropout rate among New York's youth.
The legislation states "the failure of many young New Yorkers to complete their secondary education limits their opportunity for a life of fulfillment, prevents them from advancing into postsecondary education and hinders the State's efforts to provide a well-trained workforce for business and industry in New York."
Liberty Partnerships Program
Liberty Partnerships Programs offer comprehensive pre-collegiate/dropout prevention programs and services to youth in Urban, Rural and Suburban communities of Western New York, Finger Lakes, Central New York, Southern Tier, North Country, Mohawk Valley, Capital District, Mid-Hudson Valley, NYC and Long Island
Liberty Partnerships Program Projects
Reports and Links
Reporting Year
Interim Report 
Due Date
Final Report
Due Date

2017-18

March 16, 2018
October 19, 2018
2018-19
March 15, 2019
October 18, 2019
2019-20
March 13, 2020
October 16, 2020
2020-21
March 12, 2021
October 15 , 2021
2021-22
March 11, 2022
October 14, 2022
All Interim and Final Reports must be submitted via the NYSED GoAnywhere Portal. For questions on report, submissions contact NYSED at lpp@nysed.gov .
NYSED fiscal forms
For fiscal forms go to http://www.oms.nysed.gov/cafe/forms/ 
Prior to submitting a signed FS-10A and budget narrative via post mail.  Please submit via email both the excel FS-10A and budget narrative justifying the proposed changes for Program Office review. This will expedite the review process.
Application & Request for Proposal Information
Request for Proposal (RFP)
Contact Information
Office of Postsecondary Access, Support and Success 
New York State Education Department
89 Washington Avenue
EBA RM 960
Albany, NY 12234
(518) 474-3719
kiap@nysed.gov