Liberty Partnerships Program Ensuring Excellence & Opportunity
back to Liberty Partnerships Program
Raising the Standards and Widening the Saftey Net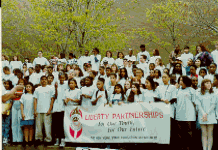 The Liberty Partnerships Program (LPP) provides students enrolled in grades 5-12 with services designed to improve their ability to graduate from high school and enter postsecondary education and the workforce.
The Need
As higher standards are implemented and student expectations rise, students already at risk in the State's high need/low performing schools and districts will face additional pressures to perform.
What are the Challenges
Disparity between resources available to students in high-need communities and high expectations for their performance.
Increased demand for high-quality academic interventions that will close the performance gap among students.
Increased demand for innovative social interventions that will reduce or eliminate the developmental impact of poverty on learners.
Insufficient funding.
Keys To Success
Visionary statewide and local strategic plans.
​Twelve-month comprehensive programs and services that promote educational and personal excellence among at-risk youth.
Effective k-16 articulation.
Professional development strands that facilitate innovations in academic and social intervention.
Collaborative venues for generating systemic and sustained resources for at-risk students and high need schools.
Parent/extended community involvement.
Regents Goals
All students will meet high standards for academic performance and personal behavior and demonstrate the knowledge and skills required by a dynamic world.
The Public will be served by qualified, ethical professionals who remain current with the best practice in their field and reflect the diversity of New York State.
Education, information and cultural resources will be available to all people.
LPP seeks statewide partners that can help facilitate one or more of the following initiatives
Interactive technology to improve the academic performance of at-risk students.
Expansion of College, career exploration program.
After-school, extended day and summer educational, cultural and recreation programs.
After-school and summer training/employment opportunities for students, parents and other significant family members.
Institutes to advance innovative practices among administrators, teachers, counselors, and other practitioners.
Whole school adoption.
Benefits
LPP will maintain its status as an effective drop out prevention program.
LPP students will have improved abilities to achieve the higher learning standards.
LPP graduates will be prepared for the rigors of postsecondary education and the workforce.
Academic intervention strategies of partner schools will be enhanced.