Board of Regents Recognizes Student Scholarship Awardees, "Write on, NY!" Logo Design Contest Winner and New York State Green Ribbon Schools
Bethlehem and Ravena-Coeymans-Selkirk Students Receive Chancellor Joseph McGovern Scholarships
East Greenbush Student Receives Regent Margaret Snow Vander Veer Scholarship
Brentwood Student Wins "Write On, NY!" Logo Design Contest
Green Ribbon School Award Recipients Include Schools in Brooklyn, Scarsdale and Ithaca
The Board of Regents today recognized the outstanding New York State students receiving Chancellor Joseph McGovern and Regent Margaret Snow Vander Veer Scholarships. The Board also announced the winner of the "Write On, NY!" Logo Design contest and honored the New York State Schools named as U.S. Department of Education Green Ribbon Schools.
"It is an honor to recognize these scholarship recipients, and their commitment to excellence throughout the pandemic positions them well to succeed in their academic careers," said Chancellor Lester W. Young, Jr. "Congratulations also to the winner of the Write On, NY! logo contest. Ms. Benavides' design was truly creative and captured the spirit of New York. The Board and I are also proud to honor the three schools named Green Ribbon Schools for their steadfast commitment to a greener New York and setting an example for a generation of future clean energy leaders."
"Congratulations to each of our scholarship awardees; just as each of their parents play an invaluable role in the Department, I'm confident that each of them will go on to contribute significantly in their post-secondary studies and their communities," said Commissioner Betty A. Rosa.  "I would also like to recognize Nathalia Benavides for her truly thoughtful and exceptional logo design. It will be vital to the success of our Write On, NY! initiative.  A profound congratulations also to each of the schools named as Green Ribbon Schools, as their dedication to effective sustainability education is remarkable."
Chancellor Joseph McGovern Scholarship
The Chancellor McGovern Scholarship provides two scholarships to assist deserving sons or daughters of State Education Department employees in obtaining a postsecondary education.
Andrew Brockley is the son of Susan Brockley, an Associate in Instructional Services in the Office of Accountability. Andrew is a graduating senior at Bethlehem Central High School in Delmar with an average of 92. Andrew's extracurricular activities include Robotics Club, Stock Market Club, Volleyball Club, a variety of Varsity and community sports, and part-time work. In the fall, Andrew will attend Siena College with a major in Computer Science.
Drew Kozlowski is the daughter of Andrew Luke Kozlowski, a Museum Scientist 3 in the Office of Cultural Education. Drew is a graduating senior at Ravena-Coeymans-Selkirk High School in Ravena with an average of 92.5. Drew's extracurriculars include Varsity Tennis, Student Government, National Honor Society, National Art Honor Society, Chess Club, part-time jobs, and volunteering. For the last three years, Drew has volunteered at a food pantry and hopes to continue this experience in a location close to her college. In the fall, Drew plans to attend SUNY New Paltz with an undeclared major.
Regent Margaret Snow Vander Veer Scholarship With Additional Funds Provided on Behalf of Former Commissioner MaryEllen Elia
The Margaret Snow Vander Veer Scholarship is endowed by the Margaret Snow Vander Veer Trust Fund with additional funds provided on behalf of former Commissioner MaryEllen Elia and is awarded to a 2021 high school graduate who is a daughter or son of an employee of the State Education Department or the Board of Regents. 
Anthony Cozzy is the son of James Cozzy, a Print Operations Supervisor in the Department's Production Unit/Print Plant. Anthony is a graduating senior at Columbia High School in East Greenbush with an average of 99.3. Anthony's extracurriculars include Math League, National Honors Society and Science National Honors Society. He has been an active member of the Track and Field team for six years, competing in both the indoor and outdoor seasons. In the fall, Anthony plans to attend Lehigh University to study mechanical engineering.
Write On, NY! Logo Design Contest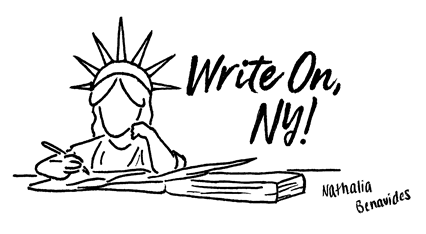 NYSED's new "Write on, NY!" initiative promotes and supports student writing in New York State. NYSED invited students statewide to enter our Logo Design Contest to help promote the initiative.
Nathalia Benavides, an 11th grade student at Brentwood High School in Suffolk County, Long Island was named the winner of the Write on, NY! Logo Design Contest. Nathalia's logo was selected out of 294 submissions from students across the state. 
When asked to describe her logo design, Nathalia responded: "For my design, I decided I'd keep it simple and modern. Representing the state of New York, I illustrated the Statue of Liberty, who is depicted writing in a journal. I wanted my drawing to be straightforward in capturing Write on, NY!'s initiative, which aims to promote the practices to make lifelong writers of all New York State students."
Green Ribbon Schools
The Board also honored the three schools named as New York State Green Ribbon Schools. These schools were New York's nominees for the U.S. Department of Education's Green Ribbon Schools program distinction. The award recognizes schools that reduce environmental impact and costs; improve the health and wellness of schools, students and staff; and provide effective environmental and sustainability education. This year's honorees are the Magnet School for Environmental Studies and Community Wellness (PS90) in Brooklyn, Scarsdale Middle School in Scarsdale and New Roots Charter School in Ithaca.